The appointment is on Friday, July 1st and Saturday, July 2nd.
The event will begin, in accordance with our tradition, with the Graduation Ceremony where the Rector of the University of Bologna, Francesco Ubertini will hand the diplomas to our students. This year there are will be over 400 students that finished successfully their BBS Master Program and Executive Masters.
LEADING IN A DIGITAL WORLD is the theme of this 2016 edition. We will talk of  the Made in Italy and the digital challenge in a panel with important speakers such as Stevie Kim, Managing Director of Vinitaly International, Stefano Domenicali, President and CE of, Lamborghini Cars, Luca Garavoglia President Campari Group, Nicholas Pianon, Senior Partner of the Boston Consulting Group, Romano Prodi, Chairman of the Supervisory Board, Bologna Business School.
Friday evening will continue in Villa Guastavillani with a fundraising dinner organized by Chef to Chef, an association that was born to promote the evolution of regional gastronomy along with its consolidation at national and international level. Funds raised will be donated as scholarships to attend a Master's program of BBS.
Friday' night fil rouge will be the "LÆD ALUMNI" . A creative team will compose an interactive video-photo album portraying the BBS Alumni Network illuminated by digital devices.
Saturday morning, on July 2nd, at Villa Guastavillani the managerial meditations will open our program of activities with interdisciplinary and transversal thoughts about leadership, followed by a Digital Fair where Alumni will present several success cases regarding digital innovation.
The second half of the morning will be dedicated to Digital Challenges, parallel sessions in which BBS Alumni and Professors discuss business problems related to current digital subjects.
This edition's novelty is the BBS Fun Coding Kids Bootcamp, a teaching program about technology, aimed for children aged from 7 to 11 years old, which will be held for the two days of the event.
For the School, the Reunion is the most important event of the year. Is the opportunity to maintain the relationships between those that have attended BBS and belongs to a Community that is rich in experiences and talent.
Main sponsor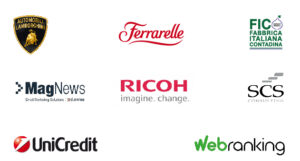 Thanks to