[students' journal] May
29 May 2015
What is it like to be a student at BBS? Here is where they have their say on campus life, tips of Bologna, and much more. Written by and for the Students.
Read here the other posts published.

---
The MBA that was!
With only 2 more weeks to close my chapter with Bologna Business School, I am compelled to script down my incredible 9 months of stay in Italy. I made my way in to Bologna in September 2014, to pursue an MBA in Corporate Finance. The 3rd week of September was marked as an ice breaking week, where I interacted with fellow students from all over the world, with more than 20 countries in representations. The activities testified that an eventful, colourful, intellectual future of 9 months lied ahead of us within the beautiful walls of Bologna Business School.
Indeed, the future belongs to those who are willing to LEARN and RE-LEARN! The programme has been insightful, challenging and relevant to the future of my continent -the beloved Africa. We are not only taking competency back to our countries, but we are fully guarded with strategies, business ideas, collaboration efforts that will bring a desired change in our economies! Thanks to our high knowledge, esteemed professors BBS has, and learnings acquired through interactions with other students.
I know, you are waiting to hear about my Italian experience as a whole ☺. Yes, Italy is a beautiful country, rich in history and a profound culture. I have had an opportunity to visit Venice, Milan, Rome, Verona, and Florence among others, and I can say that within your fully packed school schedule, you will find time to relax and refresh within the beauty of Italy and their romantic language. I will not talk about the food and the wine! ☺☺☺ because I came here a size 10 and am returning back 2 sizes more!☹ -Thanks to the mouth-watering pizzas and delicious pasta & gelato!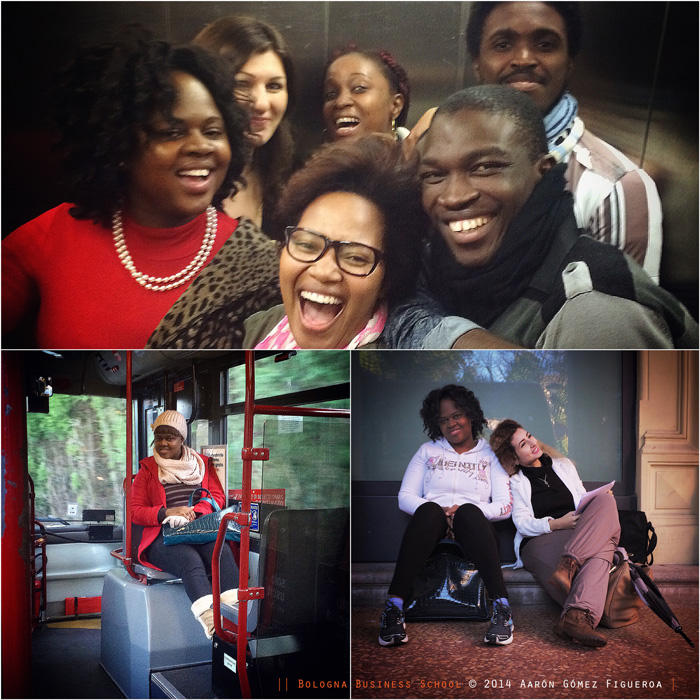 Words can never be enough -in a sum- it was such a memorable life changing experience!
I better go! 3 more exams to go, before we sign off ☺☺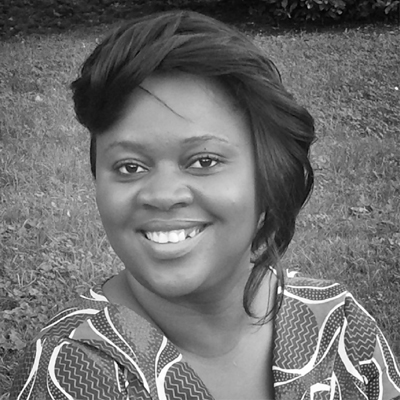 Oabona Pena Dadani – Botswana
MBA Corporate Finance – Class 2014/2015
---
Diversion: introspective reflections
I arrived in Italy on September 2, 2014 with a few things in mind. One being, to get an international MBA with a group of diverse people… Little did I know that not only would my life and prospects change but a whole new world of infinite possibilities would be unleashed and become a reality before the end of my MBA.
Before this realisation, I had to make a decision: to move from my initial concentration choice being Design, Fashion and Luxury Goods to Corporate Finance. I was often interrogated by classmates for this change in direction but trusting my gut feeling , I can safely say that I have already seen the initial return on 'my choice' investment.
I guess, what I am trying to say , is that my ability and my flexibility to see opportunities has allowed me to step into unfamiliar territory. I achieved this through being an objective observer of cultural diversity, conflict management, listening skills and doing some self introspection. The process allowed me to finally integrate all of my skills and fine tune the re-crafting of brand Jurina that is in line with my passions and my values.
So, with the end in sight, I wish to express my gratitude to my global MBA class for the exposure into their worlds and personalities. The process has been insightful and relevant because it helped me with my exit strategy for the next chapter in my life, that has already begun.
My take away's from the MBA:
Igniting my exisiting passion for Africa.
The growth and transformation of Africa is part of my life story.
The electives in Corporate Finance made us aware of the investment opportunities that exist in Africa that needs to capitalised on, which led to the conceptualising of a few business ideas being transformed into reality.
For this I will be ever grateful to the Global MBA program.
Yours truly,
"Queen of Optimism and Positivity"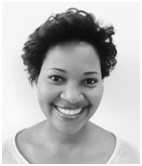 Jurina Nkwai – South Africa
MBA Corporate Finance – Class 2014/2015
---
BaselWorld
Being part of Bologna Business School we have had the opportunity to be taught by some very impressive professionals. In the Design, Fashion, and Luxury Goods concentration my colleagues and I can say that one of our favorite professor had to have been Professor Alberto Festa. He is currently the President of Bulgari North America, and the course we had him for was Gemology & Watches. However, this course was so much more than that. We were given a first hand look into the luxury industry as a whole, come up with Profit and Loss strategies for opening up new stores in certain areas, and an in depth look at both the Gem and Watch industry. Professor Festa mentioned in early February that he would be attending BaselWorld for Bulgari, which is the largest luxury watch festival in the world in Basel, Switzerland. He told us that we were more than welcome to come and visit him there during our spring break and he would take us around the event and give us an even more in depth look in the luxury watch industry. Almost everyone from our concentration decided that this would be a wonderful opportunity and we started making plans to attend Basel during this event in the middle of March. We arrived to Basel on March 19th for the first day of the festival, where Professor Festa met us at the front door and brought us into the event. He then brought us to Bulgari's area that was in the most prestigious location at the fair. When walking into Basel it was the first area to the left right next to both Tag Heuer and Hublot. We were escorted into Bulgari's area by professor Festa that was amazing in itself because there was a long line in front of the area and not many people were given the opportunity to enter. He showed us the new collection that Bulgari was showing for the upcoming season and explained the functions of the watch and the target market for which it was created. After spending some time at Bulgari with him, he continued to show us around BaselWorld, going to his competitors and explaining the strategy behind their current lines as well. We were shown Pattek Phillipe, Hublot, Rolex, and Tag Heuer just to name a few. That evening Bulgari was having an event to show off a new watch concept and Professor Festa invited us to the event as well. It was an absolutely amazing experience that my colleagues and I will never forget. We were given a first hand look at both the PR and Marketing strategy of many different luxury brands and the amount of effort it takes to hold such an event. It is an event and experience that I will remember for the rest of my life.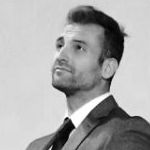 Lucian Ieremia – USA
MBA Design, Fashion and Luxury Goods –  Class 2014/2015
---
Mr. Chito comes to Italy!
To bring your pet or not to bring your pet. That is the question…
When I was first approached about writing my experience with bringing Mr. Chito to Bologna, my thought was "No way"! My fear of telling this story had to do with the fact that it wasn't the easiest transition for either of us and truly was one of the hardest times in probably both of our lives. But then after a few conversations, I realized it might help future students to decide if it's something they should or should not do.
So let's begin from last August. We were living outside of Philadelphia when I had decided to attend BBS. My friends and family all asked me what I was going to do with Chito. To me it was a simple answer. He was going to come with me – no doubt about it. I adopted him 10 years prior when he was 3 years old from an adoption agency that had rescued him from a kill pound (yes, we still have those in the US ☹). He did very well moving from his beloved home in NYC to Los Angeles where he made many friends with the dogs next-door, and back again to the east coast. So why wouldn't I bring him?
The process to bring him from the US to the EU was not an easy one. Thank goodness he was all up to date on his shots and had been microchiped a few years before. There were still required multiple blood tests, specialist vet appointments, and shots that he needed to endure just to receive the proper paperwork (aka: the kitty passport). It was all quite confusing and not a step could be missed or miscalculated; otherwise, he would not be accepted at the EU border. I did my due diligence to ensure the transition for him would be as easy as possible. I called the manufacturer of his food to confirm I would be able to purchase it in Italy. I thought perfect, everything he will need is there! So we jumped on the red eye flight leaving NYC with a weeks worth of food and Chito as my "carry-on".
We arrived that evening to the hotel in the center where they allowed pets and he was excited to be in the hotel room. The next morning I had to meet another student to go apartment hunting. I had to leave Chito in the warm hotel room with the fan going on full force. The next day was the same thing, more apartments hunting, searching, and walking around it seemed endless. Upon returning to the hotel, after the third day of crazy apartment hunting, I noticed Chito didn't drink any water and the room was hot. Just by chance, I found out the hotel had air conditioned rooms. I couldn't believe it! Needless to say, I ended up moving all of my suitcases and Chito into the air-conditioned room. On the next day, when I returned to the hotel, I found Chito shaking in a freezing cold room. I knew this wasn't good. I've never seen him shake before and he was burning up. To top it off, he didn't touch his food or water all day. So I did the best I could to warm him up as quickly as possible, and to get him to drink water.
He had always been such a good eater. While in a store trying to buy his favorite tuna treats tears rolled down my face, and two nice attendants – after listening to my story – helped me find veterinarians in Bologna. Eventually they found a 24-hour pet hospital with an English-speaking doctor. I am grateful for those women that night.
As the vet examined Chito and his paperwork from the US doctors, she determined he needed an enema and to be rehydrated. I was sent out of the room while she performed the procedure. I helplessly sat in the waiting room, listening to Chito screech until the doctor came to get me. She didn't want to let me take him home that night, but I was too scared to leave him there. She said it was ok for one night to see if he would get any better, but that I would have to give him two IV's with fluids. I agreed, she taught me how to do it, and in the morning, I started the first IV. That night I gave Chito the second IV and checked in with the doctor as directed. He had eaten a little bit, so she allowed me to keep him another night. But by the following evening, he wasn't so lucky. Not eating again, he was admitted into the hospital. It was so sad to leave him there, behind the cage with his blanket and a toy. Around 1 am they finally told me I should really go home and get some sleep, as there was nothing I could do there now and that I could come back the following evening. Off I went, and the next morning I woke up to do it all over again.
By this time I had found an apartment I had liked and thought the girls would like too. After pleading with the broker to let us rent the apartment, I headed out to the vet to see Chito. He went through various stages of getting better, than there was a bad blood test. The next day they said he couldn't breathe, put him into an oxygen bubble, and gave him a blood transfusion from a baby tiger. Yes, a tiger! If that wasn't bad enough, the following day the vet informed me that during another test there were tiny "lesions" found all inside Chito's body and that we would have to take him to a cancer specialist. So the next day we were off. The vet was kind enough to drive us to the specialist who was an hour away. About another hour of talking to the specialist, another body scan, then a cat scan, 5 hours later and not a thing was found. Then it was back to the vet because his blood calculations were still off so maybe there was some sort of cardiac problem. The next day met us with cardiologist appointment. Again, he was fine. But the vet was still worried about the blood calculations.
The following day she went to the University to meet with one of her previous professors. As it turned out, his blood work was fine. He just had a slightly different calculation than what she was used to seeing. This whole time he was being fed through a feeding tube, but I was going to be able to take him home that night. Subsequently, it was the same night that we were able to move into the apartment. Chito and I spent the first night in the apartment by ourselves. He was happy to be out of the hospital even though he really loved being spoiled by the vets who adored him, would let him out of the cage, and walk around on his own.
In the end, I know this whole experience had shaped some of my initial relationships with others at the school as I was on the verge of tears everyday for the first three weeks of being in Bologna. Chito lost a lot of weight (3 lbs), and everyday is a question of how much can I get him to eat. But in the end, I am grateful for understanding room mates like Iko who graciously feeds him when I've been out of town, Tsira who loves to talk and play with him, Magda who stopped him from climbing out of her window at 2 am and lets him chill in her room when I'm out, and Melissa who lets him help her read for school.
The "class mascot" as he's been called, is more than happy to receive guests as long as you'll play with him. ☺


Genevieve Davis – USA
MBA Design, Fashion and Luxury Goods – Class 2014/2015
---
Antica Corte Pallavicina
Being a Food and Wine student at BBS definitely has it perks, which of course includes spending a beautiful spring day at Antica Corte Pallavicina, a majestic castle build in the 14th century in the Parma region next to the banks of the great River Po. The castle was bought by the Spigaroli family in 1990 and is now run by the two Spigaroli brothers, Massimo and Luciano. Upon entering the gates we were greeted by cows, geese, peacocks and of course, the famous black pigs. After passing a small church and a beautiful vegetable garden we finally reached the courtyard of the castle. But today was no ordinary day and the courtyard was bustling with people getting ready. Getting ready for what you ask? The 4th annual 'Centomani di questa terre'of course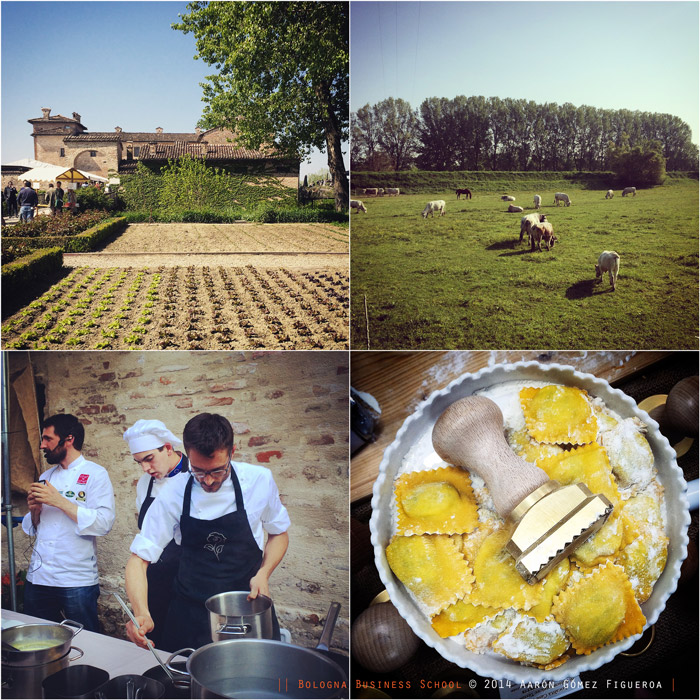 Centomani di questa terre – Hundred hands of this land, is an event organised by the chefs and producers from the Emilia Romagna region. Event is probably not the right word and it can be better described as a feast celebrating the land, culture, chefs and producers from this region. This year 50 chefs and 50 producers came together to showcase the best food and wine that Emilia Romagna has to offer. From Parmigiano Reggiano, traditional balsamic vinegar from Modena, Mortadella from Bologna, Spigaroli's famous Culatello di Zibello and other traditional DOP meats, the producers did not disappoint and the spread laid out was beyond mouthwatering. Not only could you feast on these products, but you had the privilege of enjoying various dishes made by the top 50 chefs of the region.
To wine and dine was however not the only goal of the event as it was also an opportunity for the chefs, producers and food experts to discuss the future of food. So in addition there were also 50 speakers who talked about 9 different forums, each forum relating to EXPO's main theme – Feeding the Planet, Energy for Life. In this way people were being educated about food, nutrition and sustainability, while at the same time having the opportunity to experience the best produce in the gastronomy and enology sector of Emilia Romagna. All this while sitting in a sunny courtyard enjoying a glass of wine, not a bad Monday if you ask me. And as if the Spigaroli brothers have not been gracious enough by hosting this event on their farm, they further extended their generosity and invited us to come back the next day to learn about the farm's age old traditions and practices, and to take a peek into the world famous culatello cellar.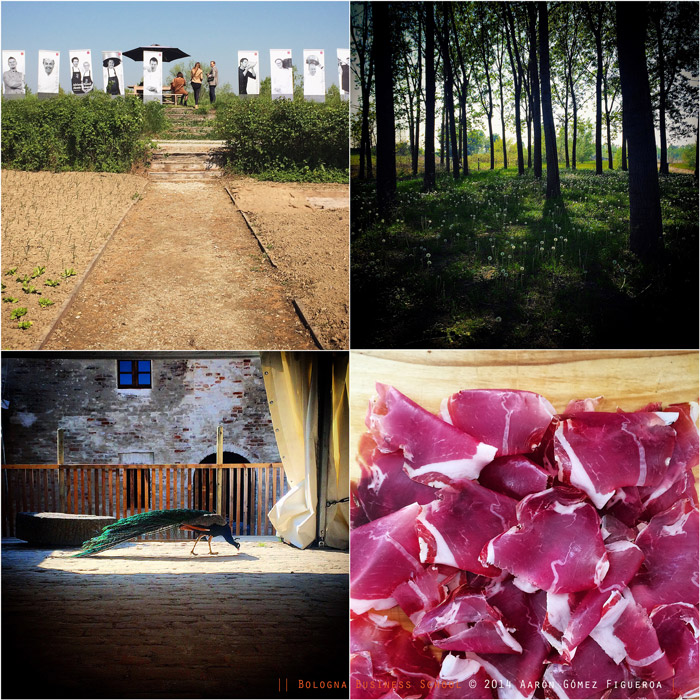 Our Tuesday morning started with a guided bike tour through the Parma flatlands where we got to see the entire Spigaroli farmland from the vegetable garden, to the vineyard where they produce award-winning wines to where the black pigs are kept and raised. After we returned we were taken to the famous culatello cellar. Here, amidst hundreds of culatello hams hanging to dry, we were told about the process of making culatello, how only 4 ingredients are used, how over 6000 culatellos are made per year by the hands of only 4 people, how each culatello is carefully inspected and turned per month to make sure it gets its fair share of fresh air coming through the window facing the river, and how Massimo Spigaroli is one of the only people in the world making culatello from the black pig. As about only 600 hams are made from the black pig per year, they are made on reservation only and in the cellar we saw the reservations made for names of high profile figures such as Anthony Bourdain, Prince Albert the second of Monaco, and of course Professor Bergami of BBS.
We then had the privilege of meeting with Massimo Spigaroli who shared his vision with us which is that their aim is to use what the land can provide us. In his kitchen almost all of the ingredients used to prepare the dishes comes from the farm. Also, they do not practice industrial farming methods and the livestock are left to roam free on the farm. He told us how everything they do on the farm, from how they raise their animals to the wooden fence surrounding the garden and the colour chosen for the bicycles, is done in a specific way and for a specific reason in order to keep their age old traditions alive. A truly inspiring story worth telling.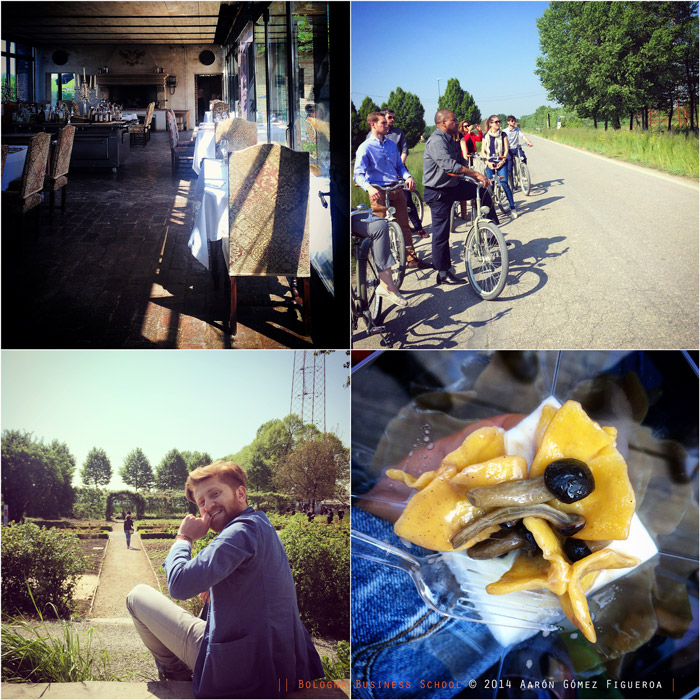 Our day was ended off with a tasting of salumi, culatello, cheese and glass of vino – I mean we are studying food and wine.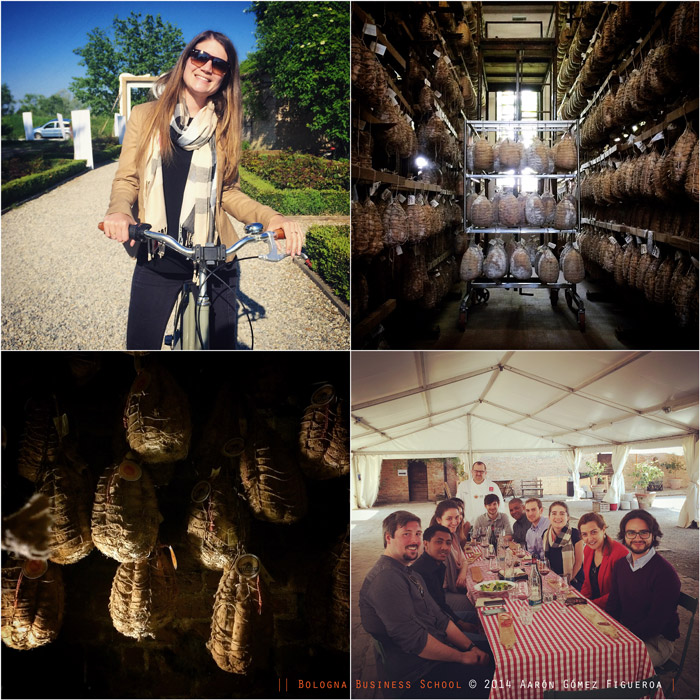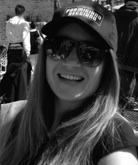 Magda Strydom – South Africa
MBA Food&Wine – Class 2014/2015