[students' journal] July 2016
25 July 2016
What is it like to be a student at BBS? Here is where they have their say on campus life, tips of Bologna, and much more. Written by and for the Students.
Read here the other posts published.
---
Bologna, the first chapter of a new book
When I received the email confirming I was accepted to the Master in Human Resources and Organization at BBS, everything changed. I was just a few decisions away from letting the opportunity go, but a lot of questions came to my mind: What am I going to do on the other side of the world? Is it worth all the effort? Is it the best place to study? Would I fit in the culture, the program, the classmates, etc.?
Everybody said that being doubtful was a normal feeling, but I've never done something like this before in my life, and what I discovered stills makes me smile… and I'm pretty sure that this effect is going to remain for many years to come.
Coming to Italy has been one of the most interesting experiences that I've ever lived. Is it possible to discover a different culture, adapt to it, and have a new home in a few days? I did it. I started appreciating the people and the surroundings, and simultaneously, began appreciating my own culture, it was like living in two worlds at the same time. I was totally astonished by the campus on Villa Guastavilani from the first day, by many professors, by the class mates and by the real meaning of "multiculturality" in everything. Every day was a new challenge, from the daily personal activities to professional tasks.
After this experience I'm taking with me a great professional knowledge and skills, many people to admire, new great friends, the Italian culture and many tools to continue my career. I wouldn't change this decision for anything, I am thankful for this opportunity, it was just great!

Andres Ruiz – Guatemala
Master in HR & Organization – class 2015/2016
---
July 15, 2016
Bologna, the first touch!
As a fresh student, my Bolognese experience starts less than two month ago. In this respect, I want to share with you some of my experience on the facts of how the city host newcomers, the first evidence, which I call it, the first touch!
In different aspects, the atmosphere of both Social and University should be important for all student and educated people who pursue their academic grows and development abroad their country. Let me express my experience about the Bologna in one world: Wonderland!
The dominant feeling atmosphere when walking and experiencing the city through the downtown from the first day was the impression of a live city. Bologna is a unique mix of rich culture of Italian citizens energized with student's life. Just think about the uniqueness of this composition! This beautiful city is famous for its layouts as a whole, respect to individual buildings and monuments in other famous cities. When the Bologna touches you, you will be considered as a part of this unification.
As a photographer, I would like to show you this connection with the first shots through the single window of my temporary accommodation at Palace hotel in the city center. The header picture is sets of photos in different days of my arrivals. The main subject selected is one of the towers, which are the symbols of the Bologna for centuries. The sole tower reflects all sentiments of me through the first shiny day of arrival, outstanding supports of MBA team, vivid nights, rainy skies and the last but not least the glorious perspective…
I believe on a famous quotation of a master who told, "we travel with our thoughts to great lands", but I also believe that this wonderland, The Bologna, lead me for great thoughts!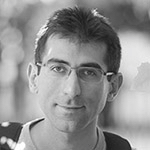 Alireza Vafa – Iran
Global MBA Innovation Management – class 2015/2016
---
July 07, 2016
The ultimate Luxury Goods are relationships
If you are reading this, it is likely you have made some kind of forecast or project plans in your life. Let me ask you: what aspects of these plans are the most risky and unpredictable?
Supply? Demand? Logistics? Capital? Maybe, but what is the common factor for all of them? The answer, to me, is always People. The 'people' are why we create products and services; 'people' are what make any goal possible; 'people' are why (or why not) we enjoy what we do; and people are what could inspire us beyond our own perspectives. The more we are able to understand each other and build solid relationships, the more we will be able to achieve our goals while enjoying every step along the way. And that is exactly what I gained out of my time at Bologna Business School (BBS).
From the very beginning, BBS had demonstrated its unquestionable priority for 'people'. From the admission process where they really took time to understand my vision, to the day-to-day running of classes, my experience consistently validated the high value BBS placed on raising us as future leaders. We had numerous courses that focused on team work, communications, business culture, and introspection. We had diverse group projects all year, which were valuable because in real life, we will work with different people, and guess what? There will be arguments, miscommunications and even friction. The beauty is that at BBS, we got to address interpersonal issues on the spot, and we had all the tools and support we needed at our disposal.
Thanks to the international culture at BBS, my class turned from 'strangers from all over the world' into a family. We studied, went out, traveled, talked about life and dreams, struggled, and grew wiser all together. This is the unique BBS bond that I not only got to build, but also learned to build again and again when I leave.
Approaching the finishing line, I have no doubt that besides the knowledge we gathered in class, the memories of our time here will persist. Doesn't this apply to life in general? At the end of our lives, what matters most might not be materialistic success, but the relationships we have built and the experiences we shared, and these invaluable aspects of life are the real luxury goods.
I am truly grateful to be where I am, and I thank BBS for facilitating such a wonderful journey.

Ketian Dou – China
Global MBA in Design, Fashion and Luxury Goods, class 2015/2016
---