[students' journal] April
24 April 2015
What is it like to be a student at BBS? Here is where they have their say on campus life, tips of Bologna, and much more. Written by and for the Students.
Read here the other posts published.

---
Business People as Ready as Wine
The first sunny days of spring are inspiring to reflect a bit about the time elapsed at the Bologna Business School, since our arrival in September when we were full of questions and doubts, to this final term where we are harvesting the results of this life and professional investment.
April is half way and the days at the Bologna Business School are more and more intense as we approach the final weeks of the Global MBA program. New projects keep adding up to the already existing tasks and the students' hard work and commitment show what they are made of and what they came here for. Students, more than ever, seem to be up to the challenge and ready to go the extra mile.
In a span of 8 months since the beginning of the course we have witnessed an incredible evolution in each one of us, a transformation from a raw 'wine must' with loads of fermenting ideas and dreams to a state of a more balanced and mature professional that makes us an almost ready wine. Our way of thinking and approaching our reality is no longer the same and the change has come for good. Now we are in a much better position to go back out there and change the world!!!
If a good wine is defined by the choice of grapes, the "terroir" and the process to which the winemaker submits these grapes to obtain a good final product, then in the same way Bologna Business School is the "business winemaker" of the Bologna "terroir" submitting its "grapes" to unique learning experiences in the pleasant atmosphere of the 16th century Villa Guastavillani.
This has been possible thanks to the perfect mix of a well designed syllabus with highly qualified professors and lecturers that have been key in reshaping the learning process through which we have all gone through. Then, the privilege of participating in master lectures by personalities that are making history in the entrepreneurial world, is another motivating "aromatic note". The Bologna Business School' s commitment to ethical business, sustainability and social responsibility are also leaving a print in our way of thinking as new age business men and women.
Our minds are now more analytically set and, whatever project comes to our hands makes us pull out our newly acquired Bologna Business School toolbox and, look at the challenge in front of us through a complete different set of critical lenses than we did upon arrival.
The course has advanced with challenging ups and downs that have put to test everyone's patience and perseverance, and where the cross cultural management tool has been key to achieve successful team work dynamics.
We are looking with some sadness to the end of the course as it also means to temporarily part from new friends and, no doubt, future business partners, but at the same time we are already looking ahead proactively to the projects where our newly acquired abilities and capabilities will best fit.
And…questions and doubts?, Yes, they are still there, but with the difference that now we have the tools that will help us find the right answers on our way to making our dreams come true as "ready-wine-like" businessmen. A ready wine means that although its qualities can already be appreciated, it is still in an evolution stage that still can improve. We will always be thankful to the Bologna Business School for this great experience as we understand now much better, what the future value of the MBA is while continuing our professional evolution after we graduate.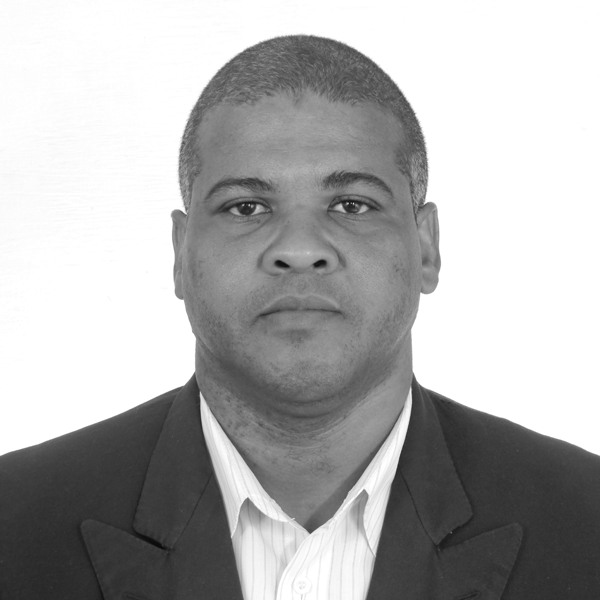 Esteban Misó Pineda – Cuba
MBA Food&Wine – Class 2014/2015
---
April 17, 2015
Alce Nero Lecture
Forgive me, but when I come across a company that claims to be a sustainable farm that produces only the finest organic produce, I take it with a grain of salt. All too often consumers are fed an illusion of organic and sustainable agriculture, "Fair Market Price," or progressive labor practices. Do a Google search on "food fraud" and you'll have plenty of literature on how conscious eaters are duped, how immigrant farmers are exploited, and how profit margins consistently outweigh honesty. Companies get top-dollar for a fictitious biography of their apples and we're all too willing to pay for the script and look forward to the sequel.
Enter Alce Nero.
We had a Lecture this past week from a company I was unfamiliar with. When the presenter Silvia Forte (International Department Marketing Manager) first introduced her company, Alce Nero, I was prepared for a round of "Bullshit Bingo": buzzwords, stale metaphors, and artificial sincerity. I yawned, rolled my eyes, and readied the tools Bologna Business School has taught me to utilize when evaluating a company.
The sour grapes I had been gnawing on since prior to the lecture grew sweeter as Silvia gave an in-depth analysis of Alce Nero's business model; every statement she made in regard to the purity of Alce Nero's products were backed-up with facts. Despite my staunch misanthropy of companies with such a suspiciously squeaky-clean image, I was completely swayed.
Alce Nero is the leading organic food company in Italy, which is a substantial achievement considering we live in, well, Italy. Is there any other country in the world that makes the "best" of so many things?
Best cars? Italy.
Best motorcycles? Italy.
Best coffee? Italy.
Best olive oil? Italy.
Best pasta and pizza? Italy.
Best ice cream? Italy.
Best women? You get the point.
A principal characteristic of the success of Alce Nero is their complete control over the entire production process from growing the crops, harvesting and packaging, to delivery. The entire catalog of offerings are made with organic raw materials, transferred using technologies that maintain integrity. The few products that are sourced outside of Italy are certified Fair Trade, and Alce Nero maintains a close direct relationship with all suppliers. Beyond a Fair Trade certification, Alce Nero additionally performs its own random audits to ensure standards.
An example of their fanatic dedication to the highest quality is that Alce Nero's production practices are actually designed to mimic the process of nature. For example, instead of heating raw honey to 90℃ to liquify it like most companies do, Alce Nero heats it to 40℃ (the same internal temperature as a beehive), which takes significantly more time to liquify but maintains the nutritional value of the product. Really?! I didn't even know that was a thing to do! Alce Nero is more than just a company, they're a beacon of light in the fog of a sometimes questionable food industry.
Look, I can go on and on about Alce Nero but that's not the point. I'm not writing this to entice the company to offer me a position with them (I'm not even in the Food & Wine concentration anyway), I'm writing this as an optimistically-reformed skeptic. It's comforting to know that there are companies out there like Alce Nero; it feels really good to know that Bologna Business School's professional network is saturated with firms like Alce Nero for each of the five concentrations' hard-working students.
I can sit here and continue dancing on the keyboard of my computer for the sake of readers who want to know more about Alce Nero and Bologna Business School, but I trust that you're able to satisfy any lingering curiosities on your own without my blatantly officious essay.
To be honest, I'm going to get something to eat.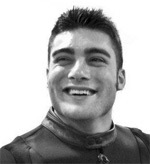 Anthony Nistico – USA
MBA Green Energy and Sustainable Businesses – Class 2014/2015
---
April 10, 2015
Easter Trip
There are two Italians, one Brazilian, one American and one Mexican riding a car in Tuscany. What seems to be the beginning of a joke, is actually what some students from BBS did for Easter holydays, but it was funny anyway!
In Italy is quite a tradition to bring your family on a short weekend trip for Easter, therefore being BBS alumni a big family, we felt obliged to keep the tradition going. On Thursday the 2nd, five alumni left the Villa directed towards Tuscany, one of the nicest Regions of Italy.
What awaited them was a trip full of wonderful rural landscapes, medieval towns, great wine and even better food. I will let pictures talk about the landscapes and towns we visited, as there is nothing better than see something to understand its beauty; what I will focus more on is what you can't sense from the pictures: friendship.
Since we knew each other from the very beginning of the MBA program, I thought there could be nothing more to discover about my colleagues. The trip proved me wrong. By visiting together this beautiful land, I've learnt how my schoolmates from very different parts of the world observe a new environment, and what are the first things they notice. I believe that only by discreetly observing a person, you can actually get to know him or her. And only then the person, from schoolmate becomes a friend.
Taking advantage of the sunny days, we drove on Friday nearby Livorno (Leghorn), right in front of the Tyrrhenian sea. Some salty air, sun and waves are just what it takes to revive our sleepy sense at the beginning of the trip!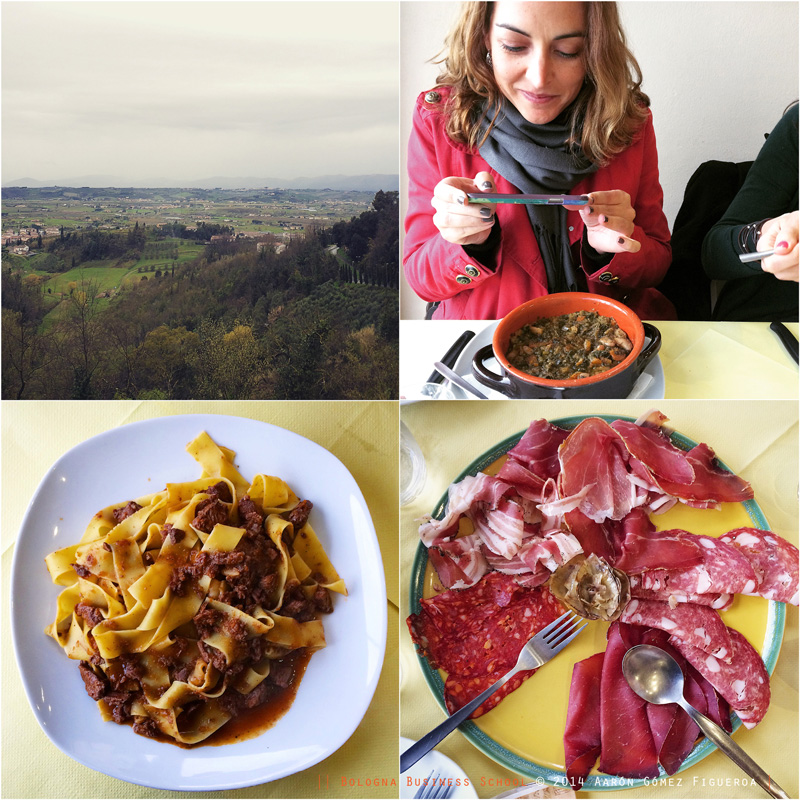 The second day, Saturday, was quite cold and rainy but this didn't discourage us to visit a fine medieval town: San Miniato. Of course, to endure a cold rainy day takes a lot of energies; food is all we needed to restore ourselves!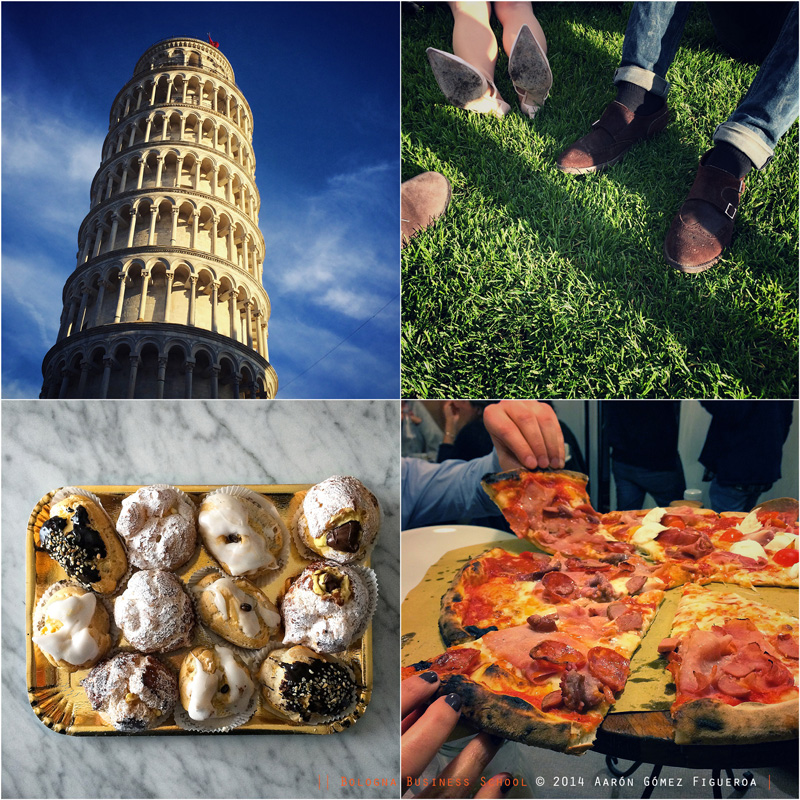 The third day, a very sunny Easter Sunday, we visited Pisa taking advantage of the hospitality of the family of one of our Italian travel companions. After the ritual visit to "Piazza dei Miracoli" where the Leaning Tower stands still, we were treated to some delicious pastries at the house of the local family.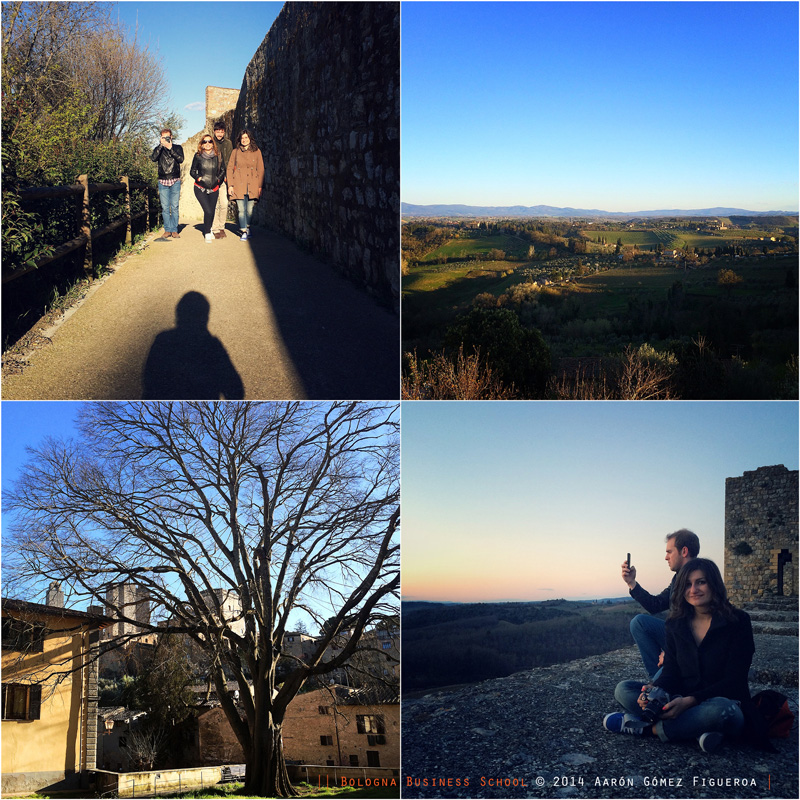 The final day, Monday, the sun was beaming and we had the opportunity to visit "San Gimignano", a spectacular Medieval town nestled in the hearth of Tuscany, and "Monteriggioni" an incredibly well preserved fortress village, with a 560 meters long defensive wall that runs circularly around the village. Not only the village was good looking, also the landscape visible from the high walls was breathtaking!
What a beautiful way to end our short trip next door! But as I remembered to my friends during the way back home: this wasn't the end of the trip; it was just the end of a break from our real journey, the one in Villa Guastavillani.
Ph. Aarón Gómez Figueroa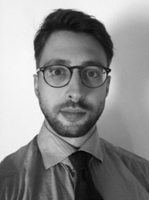 Michele Bianchetti – Italy
MBA China/Far East and Europe Business Relations – Class 2014/2015
---
April 3, 2015
Vinitaly:  A Step into the Diverse World of Wine
Although Italy is widely recognized and appreciated for its rich history, art and culture, an internal beauty of this rich country lies within the diversity seen throughout its regions.  This diversity is transferred into many value-added products, which depict characteristics of their origin and the individuals behind their production.  What better way to experience first-hand this broad diversity than visit Vinitaly, a yearly exhibition held in Verona, Italy, acting as the main reference event for the wine sector.  Italian wine greatly displays this diversity through its vast variations and producers seen throughout each region. Having the ability to attend Vinitaly as a Global MBA student within the Food and Wine concentration not only allows attendance to an engaging event but also provides the ability to taste and experience the story behind wines from multiple regions of Italy.
Upon arriving at Vinitaly, it was clear how large the exhibition really was and the strong draw it creates.  Anticipation and enthusiasm towards gaining this experience was easily seen through the large smiles on the faces of my colleagues.  The exhibition was organized by region highlighting the characteristics of wine production seen throughout each locality.  Once we started exploring the event it was easy to become overwhelmed by the sheer number of booths featuring producers offering information as well as tastings of their current line of wines.  Not only does this provide publicity for small artisanal wine producers up to large industry known brands, it also enables a story to be told that goes beyond pouring a simple glass of wine but the history each company has and the practices used to produce a particular product.
Exploring the many areas and booths that make up Vinitaly once again displayed the vast diversity within this sector.  From Toscana to Emilia Romagna and Piemonte to Marche, we were able to experience local and well-known grape varieties from each region as well as learn about the various methods used to produce a particular area's traditional wine.  Such as Toscana's Brunello di Montalcino and Lambrusco from Emilia Romagna.  Meeting the faces behind a favorite well-known brand or a small artisanal producer provided a connection to the value-added processes, many of which have been passed down generation after generation, that must take place in order to fill one's glass.
Vinitaly also provides a venue for numerous conferences, workshops and seminars focused towards the wine industry as well as highlighting the amazing products Italy has to offer through multiple tastings.  Studying at Bologna Business School has allowed me to appreciate further aspects of Italy than what normally meets the eye and Vinitaly was no different as it allowed a deeper discovery into the vast diversity seen through Italy's landscape, culture and people which in return produces amazing traditional and unique products such as the wine many have grown to love.
Ph. Aarón Gómez Figueroa


Brian Kern – USA
MBA Food and Wine – Class 2014/2015
---
Want to tell us your story? Contact us marketing@bbs.unibo.it
If you want to read more, check the posts published on March.