Master in Organization & Human Resources Management: storyboard ongoing…
5 July 2015
Are you thinking of subscribing to this program? Read all the activities that take place in this edition, there are good stories that we would like to share with you.
The MO&HRM is an all-encompassing program, involving students in a rich network of experiences, companies and people. It will remind us of the roads we have taken together, the difficulties we experienced overcoming our limits, and the joy we had being the protagonists of a most challenging program.
Take part in a "live" knowledge of the Master program and decide if it matches the way they want to grow and contribute in the business community.
Enjoy the journey.
Gabriele Morandin.
---
June 30, 2015
FINAL CLASS OF THE MASTER!
Today we concluded the Master with the exam in International HRM followed by a toast all together!
Now the business world is waiting for us. A wholehearted good luck to all participants in the Master in Organization & Human Resources Management.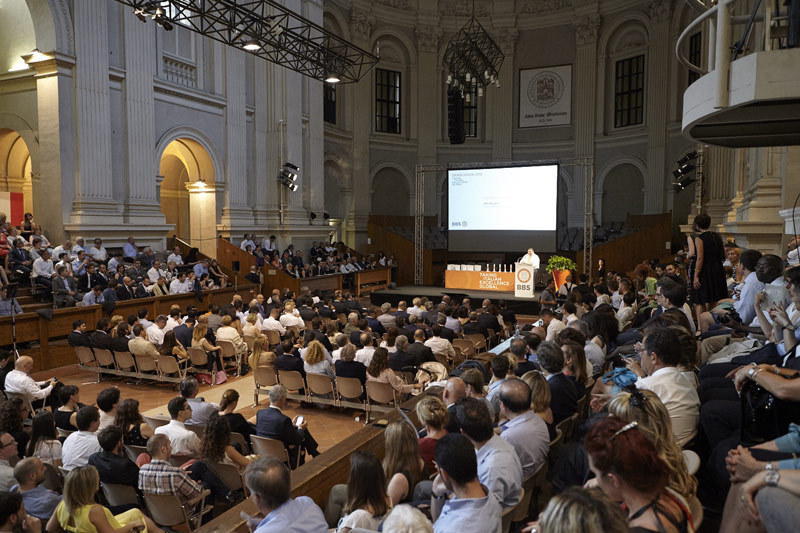 ---
June 15, 2015
LEADERSHIP DAY IN GENERAL ELECTRIC
An intense day in GE (Nuovo Pignone, Florence), where we met global managers. The agenda of the Leadership Day follows:
Welcome and Objectives
M. Lorenzi, HR Business Partner – Finance, Legal & BD
I. Polvani, Italy HR Manager – BD, Communication, Finance, IT & Legal
This is GE
F. Conforti, Strategic Marketing Analyst
Talent Management System & new O&HR Model
M. Athanasopoulou, HR Business Partner – Turbo Machinery Solutions, Services
HRM in Manufacturing
C. Tronci, Employee Resources Manager – Global Supply Chain
Recruiting & Staffing
C. Savi, Talent Acquisition Project Manager Italy & Iberia
Compensation & Benefit
N. Iacullo, Com&Ben Manager
Get to know in the Organization
G. Franceschini, HR Business Partner – Global Engineering
Leadership Program HRLP
M. Cannavacciuolo, HR Business – Turbo Machinery Solutions, Projects & Quality
---
June 10, 2015
JOBS ACT
The Great Hall of BBS was full of students, managers, and HR professionals, all present to learn of the novelties of the Jobs Act. The event was organized by well-known law firm Lucchini, Gattamorta & Associates and featured three outstanding guest speakers: Michele Tiraboschi (Director of the Centre for International and Comparative Studies on Law, Economics, Environment and Work of the Marco Biagi Department of Economics at the University of Modena & Reggio Emilia), Tiziano Pacetti (CFO of the Bonfiglioli Riduttori Group) and Paolo Longobardi (Senior Partner of Praxi and member of the MO&HRM Faculty). Recent labor laws and their implications for workers and companies were shared and discussed. It's always fruitful to debate with and learn from different professionals.
June 7, 2015
COMPANY VISIT IN COESIA GROUP
At long last! Tomorrow we'll meet the managers working in Organization and Human Resources Department of the Coesia Group (leader in the 'packaging valley', with a turnover of more than €1 billion). We're looking forward to being there…
---
May 29, 2015
THE NEW ADECCO STRATEGY…
Stefano Longo, an Adecco executive, came to Villa Guastavillani to meet us. During an intense morning, he has shared the future projects of the Group and in particular its new strategy for social recruiting. Contents of the meeting are confidential, but we learned a distinctive aspect of the organization: Adecco knows people (companies and candidates) very well. We're ready for the next meeting!
---
May 25, 2015
THINK GLOBALLY, ACT LOCALLY!
Today the Master Class met Mariano Leone, HR Business Partner at Alfa Wassermann, recently merged with Sigma-Tau, representing an Italian centre of excellence in the pharmaceutical industry. Mariano shared the management's best practices and the ongoing change process in the organization and human resources area, which could be summarized with the following words: Think globally, act locally. The challenges ahead for the company in the global market are numerous and fascinating, as well as those that the master's participants are about to face. We're invited to think globally and act locally, too. Grazie Mariano!
---
May 18, 2015
EDITOR OF WIRED AT BBS!
Massimo Russo, Editor in Chief at Wired Italia, meets the Community of BBS to talk about innovation at the beginning of a new generation of machines and artificial intelligence. Mr. Russo addressed the topic of technological and social innovation and the benefits it will bring to entrepreneurs, consumers, makers, and citizens. "It will not be the quantity or the process capacity of the available data to offer the most innovative scenarios, but the ability of  to extract and recombine complex concepts into new structures." MO&HRM are ready for the future! Thank you Massimo!
---
May 13, 2015
HUMAN CAPITAL & INTERNALIZATION
The globalization process requires a clear and determined internationalization strategy. Which are the skills needed to face this process successfully? A meeting to answer this and other questions and to discuss with professors and managers of international companies, such as Loredana Croatto (HR Director, Cooperativa L'Operosa), Filippo Di Gregorio (HR Director, Dallara), Paolo Gubitta (Professor of Organization, University of Padua), Rocco Marcuccio (Head of International Affairs, Confindustria Emilia Romagna), Gabriele Morandin (Director, MO&HRM), Nicola Parrini (HR Director Process Units & Group New Business, Barilla), Alberto Pizzoferrato (Professor of Labour Law, MO&HRM) and Simona Robotti (Director HR Intertaba, Philip Morris).
---
May 11, 2015
START UP NATIONS FOR A START UP REGION
Francesco Maria Talò, the Italian Ambassador in Israel,  met the Community of BBS to spoke about the economical relationships between Italy and Israel. In fact, Israel is a big-spender of Italian exportations goods, while Israel is one of the most technology-oriented economy in the world. With a population of about 8 million in an area of 20,700 sq, Israel represents the largest concentration worldwide of startups per capita. In absolute terms, the so called "Silicon Wadi" is the 2nd largest concentration of technology related start ups after California, with 5,000 startups and 750 Venture Capital backed companies.
---
May 11, 2015
INTERNATIONAL HRM
The International HRM course has started today. It is lead by Gabriele Morandin, the Master's Director. The course represents an opportunity for strategic learning, based on interactive classes, talks with respectable managers and above all for company visits. Where will we go? Stay tuned!
---
May 8, 2015
'CUCINA POP' WITH DAVIDE OLDANI
After Harvard, the chef and entrepreneur Davide Oldani, creator of cucina pop (pop cuisine), will go up to the podium of BBS for all the Masters' students. "My cousine was born from the desire to combine simplicity with well-made, delicious with accessible and innovation with tradition." Are you interested more in his way of cooking and doing business? This article from The Wall Street Journal is for you!
---
May 7, 2015
UNICREDIT MANAGERS FOR THE MO&HRM
Francesca Bonsi Magnoni, Head of Learning Account at the UniCredit Group, will be the special guest in the Training & Life-long Learning course. Next week will be the turn of Massimo Manganiello, Head of the Community Relationship of the North-West Italian Area. Thank you Giorgio Ballotta for bringing them into the BBS world!
---
May 6, 2015
ITALIAN MINISTER OF FOOD AT BBS!
Maurizio Martina, the current Minister of Agriculture, Food and Forestry of the Italian Government, met the Community of BBS to speak about Italy's role during the biggest event ever organized on the topic of food: the Expo. After a welcome from the Dean Max Bergami, from the Chef Massimo Bottura and from the economist Severino Salvemini, the Minister Martina spoke about the role of Expo 2015 in the week of its inauguration: "The main theme is not what remains in a mere physical way. This exhibition opens a new, purely political frontier, its legacy is intangible and wants to allow the international community to take a leap of quality on a crucial theme, that of food, that is the real challenge of the millennium."
---
May 6, 2015
THE PROJECT WORK IN HUMAN VALUE HAS STARTED
A group of 5 students participated in the kick-off meeting for the last project work. The task? They will collaborate with an head-hunting company for the recruitment of a commercial manager for a multinational company. Alessio Pecori, Senior Partner at Human Value, has introducted the project and then students started to work on it. Have a good job!
---
May 5, 2015
WONG: INNOVATION IN 'ASEAN' COUNTRIES
This evening Professor Poh Kam Wong, National University of Singapore, will tell us about the great business opportunities and the innovation trends in the countries of Southeast Asia: Indonesia, Malaysia, Philippines, Singapore, Thailand, Brunei, Cambodia, Laos, Myanmar, and Vietnam. ASEAN, Association of South-East Asian Nations, represents a dynamic region of 600 million people and a US$2 trillion market, but it is a conundrum of under-exploited opportunities caused by market fragmentation.
---
May 5, 2015
BE CAREFUL WHAT YOU WISH FOR
A special Lunch Speech with Paul Mockapetris, American computer scientist and Internet pioneer, who, together with Jon Postel, invented the Internet Domain Name System (DNS). The meeting will focus on the experiences and practical advice of Paul Mockapretis, covering three subjects: 1) what Paul has learned during some spectacular successes and spectacular failures in his projects; 2) suggestions on how and why to construct an effective "elevator pitch"; 3) how you should test your entreprenerial idea against his "What would Archimedes do?" principles.April 30, 2015
---
April 30, 2015
AIDP, DUCATI, LAMBORGHINI, AUDI, VOLKSWAGEN & BBS
During the inauguration of the DESI Training Center of Lamborghini and Ducati, developed in collaboration with the Audi Group and the Foundation Employees Volkswagen, the Italial Association for O&HR Directors (AIDP) has communicated its commitment and the value of its collaboration with Bologna Business School to all members. We strongly believe in this cooperation and we work closely for the education of a new generation of managers.
During the meeting, AIDP has welcomed two new members: one of them is Alessio Bertuzzi, MO&HRM's former student and actual member of the BBS Alumni Community. You're welcome, Alessio.
---
April 30, 2015
O&HR AND THE OTHER CORPORATE DEPARTMENTS
What are the relationships between O&HR and other corporate departments? This is the question that will be addressed throughout "Forms of O&HR Departments", lead by Luigi Golzio, Professor of Organizational Theory at the University of Modena & Reggio Emilia and member of the Scientific Committee of the Biagi Foundation. Good job to Luigi and to everyone in the class.
---
Aprile 29, 2015
BEST PRACTICES
Pasquale Borrelli, Master at Aleph NLP, will be the special guest in the Training & Life-long Learning course. Thank you Giorgio Ballotta of UniCredit (Managerial Professor of the course) for bringing him into the BBS world. It's a good practice to develop!
---
April 27, 2015
COMPETENCIES + RELIABILITY
The course on O&HR Administration has started today. Soft skills are important, but it is fundamental to master techniques and operative tools. In this way future managers' skills increase and hence their reliability. The course will be led by Roberto Aprile, who leverages both on academic and professional experiences. Good job to Roberto and to everyone.
---
April 23, 2015
KNOWLEDGE WORKERS BALANCE ICT AND HRM
Carlo Ugdulena (Country Manager) and Gianfranco D'Aurelio (Group Product Manager) of Cezanne have lead a futuristic managerial workshop. The theme? How information and communication technologies (ICT) modify organizational processes and practices of human resources management. This new combination creates opportunities for new jobs: knowledge workers balancing ICT and HRM. The Master Class always looks to the future!
---
April 20, 2015
INNOVATION IN RELATIONS AT WORK
The Innovation in Relations at Work course has started today. It is lead by Massimo Neri, Full Professor at the Modena and Reggio Emilia University and member of the board of the Doctorate School at the Biagi Foundation. The course addresses issues such as organizational well-being, work-life balance, and diversity management, which are key topics in today's multicultural firms. The Master's students are training themselves for the future.
---
April 20, 2015
BENEDETTA ARESE LUCINI (UBER ITALIA) IN BBS!
"Uber is a revolution: the mobility market has evolved and we cannot go back." says Benedetta Arese Lucini, General Manager of Uber Italy, the mobile app for renting a driver on demand. Here at Bologna Business School on Monday. "I'm nobody, just an employee in a company that is changing things." But it is a note of style, because Benedetta is well aware of the battle she is fighting as a leader. Against the taxi lobby, the doubts of the government and the Mayors.
---
April 17, 2015
CONCLUDING DAY OF THE MASTER 2013-4
It has been a tough day but a happy day nonetheless. In fact, today participants of the Master Class 2013-4 have come back to BBS in order to discuss their final dissertation. The discussion, based on the ASPEN Institute method, has represented a further opportunity for sharing experiences among the O&HRM new-managers. Upon concluding the formal session, a party followed.
Thanks to everyone. It has been an honor to share a great year with each one of you. Good luck for you future. BBS will always remain "your home".
---
April 15, 2015
SHARED LEADERSHIP AT THE ORPHEUS CHAMBER OSCHESTRA OF NYC
Today, we welcomed the Orpheus Chamber Orchestra to the business school. Which is the main characteristic of this orchestra? It performs without a conductor and is based on shared leadership. A great lecture, where Andrea Lipparini, Professor of Strategy, helped the audience to draw parallels between music and managerial settings. In the evening, the orchestra performed at the Arena del Sole theater, enlightening the audience with magical music arranged in a unique way.
---
April 15, 2015
INNOVATION TECHNOLOGY AND TALENT MANAGEMENT
How does innovation technologies modify talent management? This is the question addressed by the O&HR community of BBS with Gianfranco D'aurelio (Group Product Manager at Cezanne HR), Giancarlo Monastero (Executive Corporate e Personal Coach at CoachU Italia) and Luca Sordi (Senior Partner at Intervieweb). The world changes: it's important to keep up with innovations and to exploit them.
---
April 13, 2015
PERSONAL DEVELOPMENT
Today is a tough day at BBS! Alessandro Ferrari – HR Director at Guaber – a global company in the homecare industry, owned by the private equity fund BC Partners – shares a learning session on personal development, helping students to find their personal strengths, improve their weaknesses and differentiate their "professional brand". Young managers growth!
---
April 13, 2015
SPRING-BREAK OVER, LET'S MOVE FORWARD!
We will re-start with the new course on Training & Life-long Learning, lead by Giorgio Ballotta, First Vice President Stakeholder & Service Intelligence Italy at the UniCredit Group. It's always very satisfying to see the availability of business leaders willing to share their knowledge and experiences with BBS. Best wishes and good job to Giorgio and to everyone in the class.
---
April 2, 2015
STUDENTS ENLARGE THEIR NETWORK IN PROJECTS WITH EXECUTIVES
How are students evaluated in the Knowledge Management & ICT course? It's easy: they have to develop a project on a course-related topic working side by side with top-managers of multinationals. The difficult part is that students have to create the network, develop projects and satisfy the expectations of executives and of the professor. Once again students overcame the challenge with four projects: A) Red Bull and Toro Rosso in the Formula 1. B) McDonald's, American Graffiti e WellDone in the fast-food industry. C) Yoox and Feltrinelli in e-commerce and D) Finmeccanica in an internal project on knowledge sharing. Compliments to our students!
---
April 1, 2015
HAVE A GOOD COURSE, PAOLO!
Today Paolo Longobardi, Senior Partner and Member of the Board of Directors at Praxi Spa, a leading head-hunting company, commenced the course on Recruitment and Onboarding. Seven meetings with a head-hunter in order to learn methodologies and techniques for succeeding in this key activity of any given company. The staff and the Director of Studies thank him for sharing his knowledge and expertise with the Master Class.
---
March 30, 2015
INNOVATION IN THE HIGH-TECH
Andrea Borgatti is the O&HR Director at Brevini Power Transmission, which is among the world's top five manufacturers in the sector of mechanical transmissions and gear drives, thanks to growing market shares in industrial applications (steel industry, plastics production, materials handling) and in innovative systems such as wind turbines, waste recycling plants, and energy production. Brevini is a major player also in the mining sector and in marine technologies. How to compete in these industries? We have discovered how thanks to a fruitful workshop with the O&HR Director. Thank you Andrea!
---
March 25, 2015
THE INTERNATIONAL CAREER OF FEDERICO OTT
Federico graduated in Law at the University of Turin and is today Global O&HR Director at Landi Renzo Group, a world-leading company serving more than 30% of the market for LPG and CNG alternative automotive fuel systems and components. His career started at Iveco (FCA) as Head of Industrial Relations, then -after a 2-year experience in the development area of the Iveco Worldwide-, he became HR Director of strategic plants in Italy and abroad. In 2010 he joined Comau as HR Business Partner and to then become Global HR Industrial Operations. Since 2012 he's with Landi Renzo leading both the 5 Italian and the 11 international branches. Federico shared the turns throughout his career path with us as well as different strategies for managing people and organizations in a global environment. Thank you Federico for allowing us to "travel" with you to the various countries you've worked in and thanks to Landi Renzo for making BBS's 500 car traveling all around the country.
---
March 24, 2015
THE 1st MANAGERIAL WORKSHOP WELCOMED ROBERTO MORINI, O&HR DIRECTOR AT CARPIGIANI
Carpigiani Group, with plants in Italy, Spain, China, Argentina and commercial branches in France, Germany, Netherlands, United Kingdom, Russia, USA, Japan, India, Argentina and Brazil, is the global leader in the production of equipment for fresh ice cream and pastries. Moreover, the company is the leading multi-brand manufacturer of equipment for soft serve, frozen yogurt, shakes, slush, whipped cream and hot chocolate. After the business and industry presentation, Roberto shared the development of their O&HR Department and the new projects ahead with the class, concluding: "We are always looking for better ways to further the growth of people in the firm. If people are satisfied in their jobs, they will be committed to take up the company challenge of becoming a global leader in the business." The passion for growth contaminates us. Thank you.
---
March 19, 2015
TEAM PROJECT WORKS
Yes! The PW moment has finally arrived. Today Valentina Miceli, Program Manager of the Master, presented the Project Works that the class will complete over the next month divided into smaller groups. Five different projects in five different companies: CMC Group, GEA Refrigeration, Human Value, Hera Group, and Manutencoop. The students will work side by side with the O&HR Manager of these companies in order to address a specific issue of theirs. Everything will be under their responsibility. A true real-world gymnasium. This is magic, but real!
---
March 18, 2015
MEETING WITH Mr. REEVES – HEAD OF THE BOSTON CONSULTING GROUP IN NYC
Some opportunities are simply unique. The chance to exchange ideas with the Senior Partner and Managing Director in BCG's New York office, one of the main "business squares" worldwide, has no price. We didn't talk by video-conference or on youtube, we found ourselves face-to-face in the auditorium of the MAST Foundation, an innovation center created by the Coesia Group. Beyond the contents of the talk, we "took home" the value of being part of a larger community of executives, academics, students and prospective managers, committed to sharing visions, expressing doubts and looking for new ways to address companies' problems. We are not in the business, yet, but we're entering from the main gate.