Protecting Made in Italy with Blockchain
7 December 2018
Italy creates numerous high-end products and significantly benefits from its intellectual property and its trademarks. The Made in Italy merchandise mark in particular is recognized worldwide as a symbol of high quality products. In fact, if the trademark was registered officially as a brand, it would be the third best known brand in the world after Coca-Cola and Visa*. The international trade in counterfeit products, however, grows year by year and the protection of the trademarks, which has always represented a challenge for both brands and regulatory agencies, is moving more and more towards technological and digital solutions. A concrete opportunity to protect the value of Made in Italy comes today from the Blockchain, able to provide an effective solution to combat the threats of counterfeiting.
Some of the biggest luxury brands, the craft industry and the food and wine sector, proudly boast the Made in Italy mark as a distinctive sign that reinforces the perception of quality. However, the fact that they are present on international markets and that a true Made in Italy brand has not yet been formalized, makes their products extremely vulnerable to counterfeiting and piracy.
For decades, the damaging effects of counterfeiting have hurt global economies, and Italy has been hit particularly hard. In recent years, the risk of trade in counterfeit products has grown exponentially and represents a significant threat to the engine of economic growth, undermining at the same time good governance, the image of the country abroad, the rule of law and citizens' trust in the government.
The seizures of counterfeit or dangerous products operated in Italy by the Guardia di Finanza have increased from 90 million in 2006 to over 393 million in 2015. According to the latest OECD report, world trade in counterfeit goods (luxury bags, watches, food products, auto parts) has an impact on the Italian economy of about 1-2% of GDP in terms of sales, while trade in counterfeit and pirated goods in the world amounts to 5% of imports into the EU.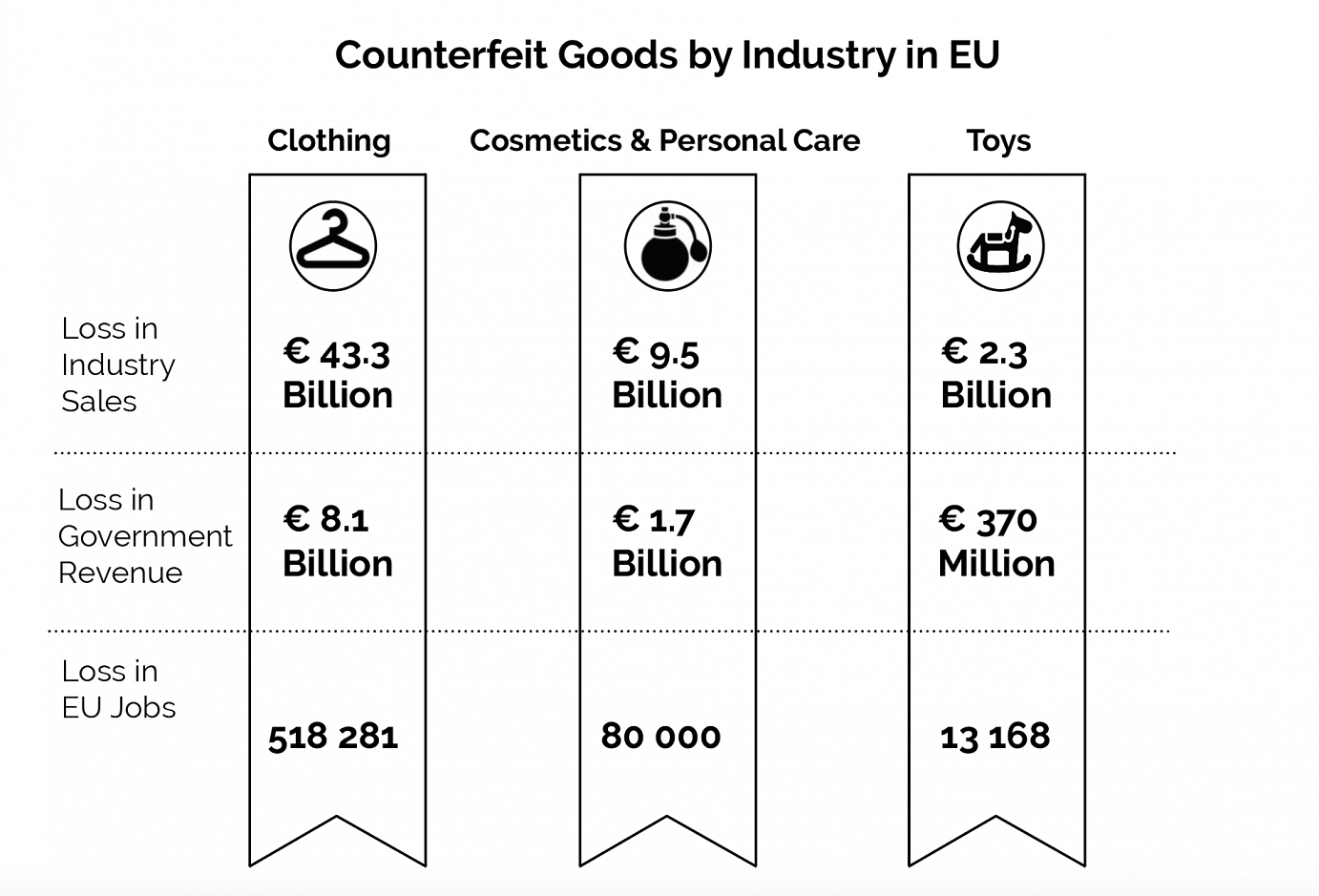 ** Source: 2017 Situation Report on Counterfeiting and Piracy in the EU
Operations engaging in counterfeit trade are well organized, and ship goods via very complex and difficult-to-monitor routes that pose a formidable challenge for enforcement authorities. So, how are Italian companies and the government working to fight this issue?
As a Member State of the European Union, Italy applies EU regulations, as well as the Agreement on Trade-Related aspects of Intellectual Property Rights and the main international agreements in this field. The government has also reached agreements to coordinate operations with a number of countries from which counterfeit goods originate, most notably, China. These measures increased the efficiency of criminal prosecution, and the implementation of the Anti-counterfeiting Information System, a computerized platform made available by the Guardia di Finanza that also allows rights holders to send information about their products for ready reference by the control agencies in the field. However, despite these efforts, the problem of counterfeiting and piracy continues to pose an economic threat that is difficult to regulate.
In addition to increasing public awareness about the damaging effects of buying counterfeit products, brands need to think creatively about building brand identity and they need to prioritize creating innovative ways to guarantee their products are genuine. In fact, consumers' sense of "belonging" to brands must be directly linked to a desire to own a genuine product. To do this effectively, brands must offer tools that allow customer to check if the products they are buying are original, protecting them from buying a counterfeit item.
In the last few years, technological innovations have contributed to the fight against counterfeit goods by allowing consumers to ensure products they buy are genuine pieces and by promoting brand engagement. One of the newest and most effective solutions involves the use of blockchain technology, a decentralized peer-to-peer network of digital ledgers called blocks. Information stored in blocks, (including transactions), is transparent and available to the whole community. This allows information to be verified at any point in time and makes the information unchangeable. Brands and consumers are thereby able to authentically track the supply chain, giving the solution the unique ability to benefit both consumer and brands.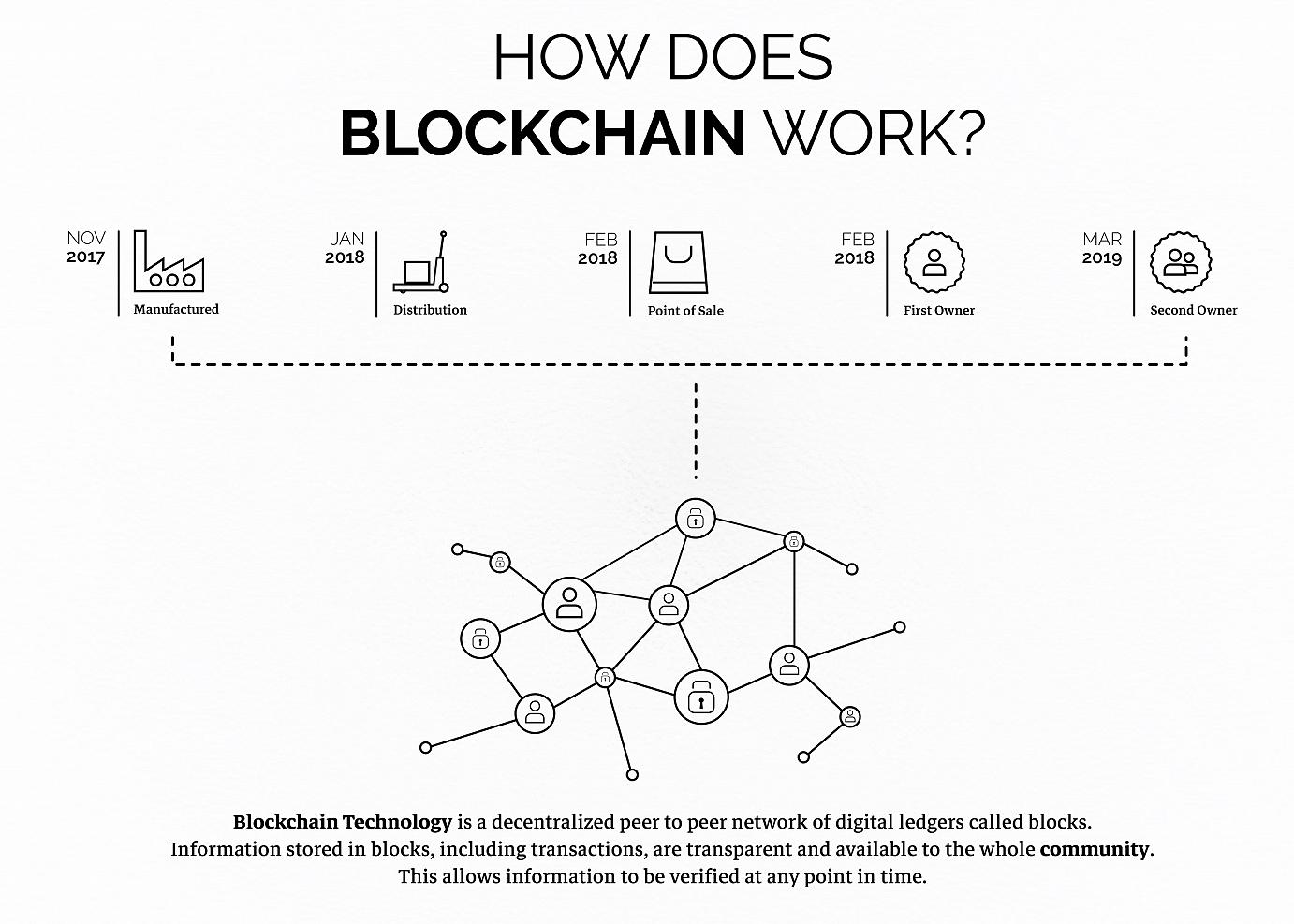 IL MIO World, an Italian startup at the forefront of the use of this technology, gives an example of how the blockchain can be successfully implemented in the process of brand authentication. IL MIO World, in fact, embeds Near Field Communication (NFC) chips into luxury products, giving products a unique ID that is then connected to data stored on the blockchain. In this way, a digital fingerprint is registered for physical assets.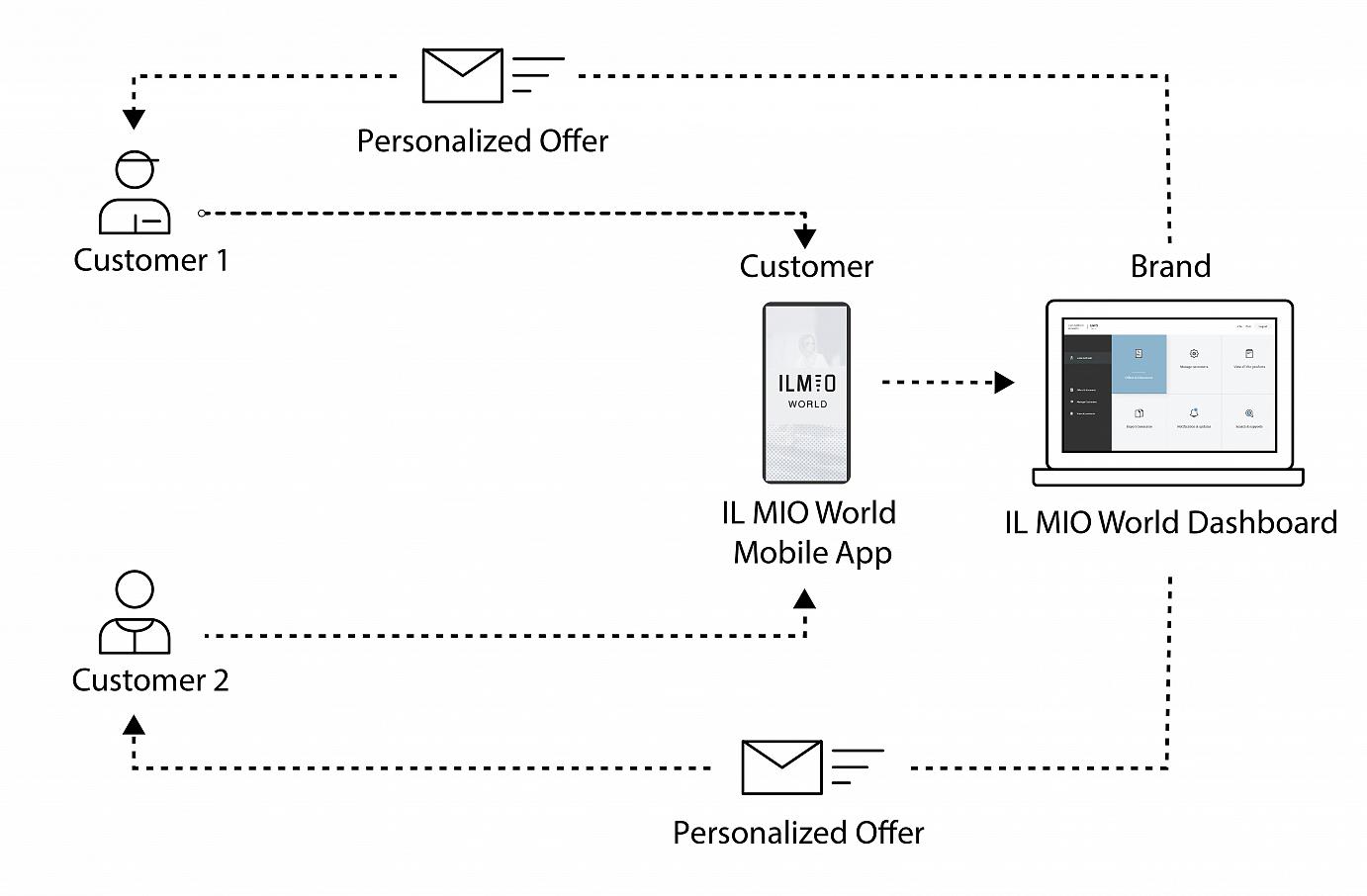 Through the chip, consumers can claim ownership of their products that is provable and verified at any time on the blockchain. They can then ensure that any second-hand products or products bought through third parties or retailers are authentic. On the other hand – in addition to being able to verify the authenticity of their products and fight counterfeit items – brands can develop exclusive engagement campaigns for the owners of their authentic products and, for the first time, they can track second and third hand purchases of their products and incentivize interactions like real-time product feedback surveys, which increases brand loyalty.
The Made in Italy mark that signifies high-quality, creativity, and innovation now has a new ally in Blockchain, that has the ability to combat counterfeit goods like never before. Solutions implementing this technology are playing an important role in connecting disruptive solutions with traditional business, thus generating profitable partnerships and benefiting the whole community.
– by Armin Zadakbar, entrepreneur and CEO at IL MIO World, Alumnus of the Global MBA in Design, Fashion and Luxury Goods (class 2011/2012) and Career Advisor BBS Global MBA. Armin has been also selected as a Business Coach of the EU Commission for the program Horizon 2020.
*Italy Journal: Economie e Aziende, 2017