Bologna Business School is pleased to announce the opening of the BBS Centre for Sustainability and Climate Change, the first interdisciplinary centre for business education in Europe, on Monday, May 17th, at 5 pm (CEST).
Here 11 new assistant professors from different disciplines -including management, engineering, physics, geography, medicine and law- will work alongside with the Core Faculty with the aim of supporting companies in their sustainability transition pathway.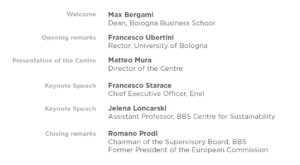 In order to participate, please fill the registration form.