A memorable year, a future full of optimism
3 June 2021
The farewell and welcome speech by Professor Marcello Russo, Director of the Global MBA, to the new BBS Alumni at the end of their journey. 
 A few hours after the ceremony and party that celebrated the conclusion of your MBA, it is not easy to find the words to express the feelings that race through my mind and heart. On the one hand, it is hard not to feel sorry for the end of such an exciting journey: the program is over, we will see less of each other, and I am sorry about that. On the other hand, however, there is a great joy for the day we have just had, full of hope, positive energy, and enthusiasm after such a long and difficult year.
Seeing you smiling, talking about the future, new projects, and new adventures, in a special place for this area and also Italian excellence, was really exciting.
I think we all needed it: you deserved it and Bologna Business School organized this day to celebrate the end of a life-changing journey for all of us. Indeed, if for you, who are starting a new phase of your life today, it is almost taken for granted, for us, for the team and for the whole staff, it is a great and not at all predictable satisfaction. We are grateful to you for the things you have taught us, for your courage, for the adaptability you have shown during an unprecedented year in the recent history of the world.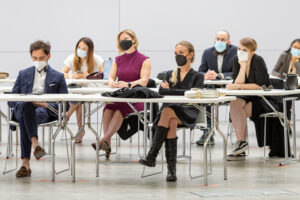 As Miriely said during the ceremony, it was a bit of a crazy idea to step out of one's comfort zone and take on this challenge in the year of Covid. But none of you seem crazy to me, on the contrary: you are passionate and motivated, brave, bright, and talented professionals and I am sure that these qualities will contribute to your personal and professional success. 
I had the opportunity to speak, not long ago, with one of the doctors who were on the front line during the pandemic, and he said something that I want to share with you. He said that the only way we will be able to come out of this challenge as winners is by becoming better people, better citizens, driven by solidarity and collective values. Otherwise, we will have missed another opportunity to turn our lives and society around.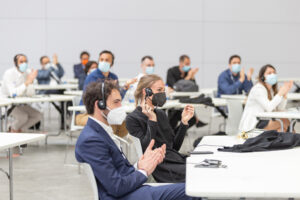 You are all on the right track. You are a wonderful group, you have built a strong bond between yourselves and great solidarity, which goes beyond just being classmates. Attending an MBA is much more than acquiring a certain type of knowledge and opening a door to your dream role or company. Attending an MBA is about acquiring a new status, a new mindset, a new worldview, an experience that helps you to become constructive contributors to the society of the future.
I would like to end by asking you a favor. A favor for us, for BBS, but above all for yourselves: keep today's enthusiasm, confidence, and energy intact. 
Thanks to all of you and welcome to the big family of BBS Alumni.